Insurances We Accept
Spine
90 percent of the population will have at least one episode of back pain. To get better and stay better you need to follow evidence based care. We follow evidence based guidelines to enhance your early return to a normal life.
Sports Medicine
Our owner has treated many iconic athletes including UFC Champions, Superbowl champions, MLB MVPs, Grand Slam Champions  and of course our great Cirque performers.  YES...We know sports medicine.
Upper Extremity
A very common problem, our goal is to help you avoid surgery. However, if you do need surgery we work closely with your doctor to follow their protocols to get you back to a normal life.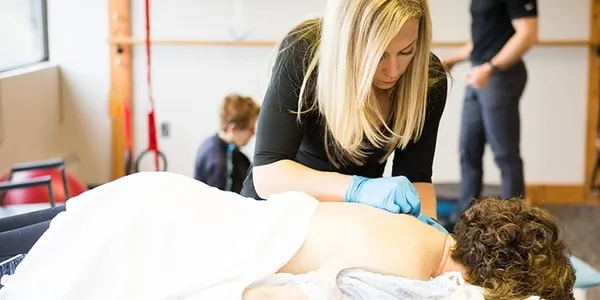 Dry Needling
Dry needling involves a thin filiform needle that penetrates the skin and stimulates underlying myofascial trigger points and muscular and connective tissues. The needle allows a physical therapist to target tissues that are not manually palpable.
Foot & Ankle
Depending on your job and choice of exercise many of us spend over 8-10 hours a day on our feet. It's the first thing that touches the ground in the morning and the last thing to hit the ground before we go to bed. Let us help you with any foot and ankle problem you have. We have state of the art techniques and products.
Work Comp
Unfortunately injuries can happen on the job, We specialize in getting youjob fit and work ready.
Vertigo & Vestibular Rehabilitation
Dizziness, disequilibrium, and vertigo are common complaints that can significantly impact an individual's quality of life. These symptoms can make it difficult to perform daily activities and can even lead to falls. Our team are experts in the evaluation and treatment of dizziness, disequilibrium, and vertigo.
Hand Therapy
Hand Therapy is a rehabilitation of the hand and upper extremity following injury or surgery. Hand therapists are occupational or physical therapists who specialize in treating disorders of the hand, wrist, arm, and elbow. Our certified hand therapists have received extensive training in the rehabilitation of hand, wrist, arm, and elbow disorders.
Personal Injury
We specialize in treating personal injuries on a medical lien from auto accidents and other cases. We work closely with personal injury attorneys who have lien cases in and around Las Vegas. Call to set up an appointment for your personal injury clients today and they can be one step closer to feeling better.
Dry Needling
Dry needling is a technique that physical therapists use to treat myofascial pain. The procedure involves inserting a thin needle into the skin and muscle tissue to stimulate trigger points, or knots, that can cause pain. Dry needling causes the muscle to relax and release the pressure on the nerves. It can also help increase blood flow to the area and improve range of motion.